Maria Campbell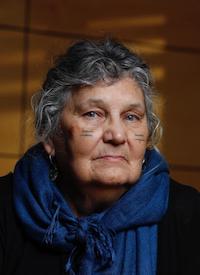 MA
Honorary Doctor of Letters 
Métis author, playwright, teacher, Elder and community worker Maria Campbell is a lifelong advocate and contributor to Indigenous and Canadian letters, arts, and politics. 
In 1973, her groundbreaking autobiographical novel Halfbreed told the compelling story of a strong-willed woman who defeated poverty, racism, and alcohol and drug addiction by the age of 33. It is a book about courage, integrity, and healing. It had a momentous impact on Canadian public discourse and culture, marking the emergence of Métis literature, and is still widely read and taught today. Campbell was one of the first Indigenous women in Canada to write the story of her life, illustrating how much of her personal identity was constructed by racist and sexist external forces. 
Campbell was born on a trapline in northwestern Saskatchewan, the eldest of eight children; she had to give up school to care for her siblings after her mother's death. She considers herself first and foremost a community worker and organizer, and is a fluent speaker of Michif, Cree, and English, in addition to some Salteaux. Her first book was published in 1969 and her literary legacy includes numerous books such as Riel's People: How the Métis Lived, award-winning plays,and contributions to theatre and film. Throughout her life, she has worked tirelessly with community members, political leaders, artists, writers, scholars, feminists, and allies to advocate for women's and Indigenous rights. She is dedicated to helping both women and children, and until 10 years ago, her home was a safe house for both.
In 2008-09, Campbell spent four months at UWinnipeg as the Carol Shields Writer in Residence, where she devoted an extraordinary amount of quality time giving numerous workshops, readings, and talks.  She is known as a caring, humorous, and warm presence. Campbell has received many prestigious awards, including a National Aboriginal Achievement Award and a Canada Council for the Arts Molson Prize; in 2008, she was named to the Order of Canada. 
For her pioneering and powerful contribution to Métis literature, and in recognition of her many talents and how she uses them to forge a better future for her community and country, UWinnipeg bestows upon Maria Campbell an Honorary Doctor of Letters.