Annie Boulanger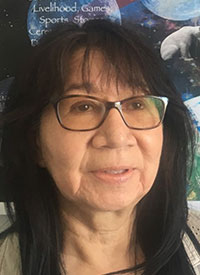 BEd, PBDE
Honorary Doctor of Laws
Over a long and distinguished career as an Indigenous language educator and advocate, Annie Boulanger has touched the lives of thousands of students and teachers across Manitoba. Originally from Berens River First Nation, she grew up living and learning about the Anishinaabe traditions and customs from grandparents, parents, and community. She has dedicated her life to the preservation, retention, and revitalization of the Ojibwe language along with culture and history of the Anishinaabe people.
Boulanger is a gifted teacher and mentor whose expertise in written and oral Ojibwe extends beyond academia. In addition to two decades teaching in the Aboriginal Language Specialist Program and Indigenous programs at Red River College and teaching Introductory & Intermediate Ojibwe at The University of Winnipeg, she has worked with communities across the province, developing locally-based language and culture camps, and mentoring new instructors.
An inspiring educator, Boulanger has a progressive approach to language instruction that ranges from land-based learning and first- and second-language acquisition approaches in developing lessons along with multimedia resources. Whether in the classroom or the community, she goes beyond language instruction to ensure students understand concepts, history, and cultural relevance.
Boulanger's dedication to the conservation of the Ojibwe language is well regarded and includes an Indigenous Language Education Award from The Aboriginal Circle of Educators, as well as past memberships in the Manitoba Aboriginal Languages Strategy and The Aboriginal Teachers Circle. She is an active participant in language conferences, tables, and working groups and is known for her expertise in planning and teaching developmentally appropriate, hands-on, language lessons.
A social, cultural, and political influencer, Boulanger's dedication to language revitalization is evidenced in her work as a translator, transcriber, curriculum development specialist, and instructor. Her ability to create a bridge between Elders and youth has led to the development of a wide network of language nests; a bilingual and an immersion-based approach to language revitalization that inspires and equips a new generation of speakers.
For her longstanding commitment to Indigenous language preservation and revitalization, both in the academy and in community, The University of Winnipeg is proud to bestow an Honorary Doctor of Laws on Annie Boulanger