Ida Bear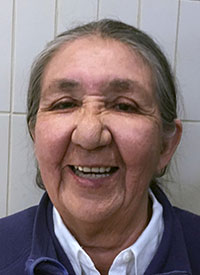 BA, BEd
Honorary Doctor of Laws
Ida Bear has played a pivotal role in the revitalization and protection of Indigenous languages in Manitoba. Originally from Norway House Cree Nation, she is an inspirational teacher and Indigenous language advocate with decades of experience teaching Indigenous languages to students of all levels: from preschool to university.
Bear is a vivid storyteller who brings language instruction to life. She is a driven, organized instructor, known for building strong relationships with her students — in the classroom and through land-based learning. Whether working directly with students or mentoring language instructors in curriculum design and lesson planning, she shares her passion for language revitalization with patient guidance and easy laughter.
Bear's career began in 1967, teaching in an Oral English Program in Garden Hill and Island Lakes First Nations. Since then, she has worked on the design of an Ojibway and Cree bilingual program and trained the teaching personnel and administrators who worked with the selected schools in the bilingual project in the federal schools. She has worked for many years as a language instructor at Red River College, University of Manitoba, and The University of Winnipeg,
A talented linguist, Bear is fluent in Cree and English, functionally fluent in Ojibway, and has a primary level of reading and writing in French and Classical Greek. She completed a Bachelor of Arts and Bachelor of Education at the University of Manitoba in 1985, where she majored in English and Aboriginal Languages, and studied Cree Linguistics. A lifelong learner, she returned 30 years later to work toward a major in history.
It is with great pride that The University of Winnipeg marks 2019 — International Year of Indigenous Languages — by bestowing an Honorary Doctor of Laws on Ida Bear. Her lifelong commitment to Indigenous language education is a gift to future generations.