George Bain
Honorary Doctorate
---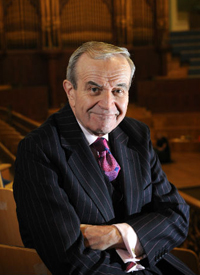 BA (Hons), MA, DPhil

Honorary Doctor of Laws
George Bain is a Winnipeg native who became a renowned scholar, an industrial peacemaker, and an exceptional academic leader.
A graduate in Economics and Political Science and Lecturer of the University of Manitoba, he was active in the Royal Canadian Naval Reserve, becoming a Lieutenant, and in politics, becoming President of the Manitoba New Democratic Party shortly after its founding in 1961. In 1963, a Commonwealth Scholarship took him to Oxford for doctoral studies in Industrial Relations. 
Bain's distinguished academic career led him from Oxford to a professorship at the age of 30 at the University of Manchester Institute of Science and Technology; the University of Warwick, where he was Chairman of the Warwick Business School; the London Business School, where he was Principal; and Queen's University Belfast, where he was President and Vice Chancellor.
His interests and activities have extended far beyond the academy, particularly to the making of public policy.  Known for his intelligent and balanced approach, Bain has been called upon by the British Government to chair several commissions and inquiries.  To take only one example, he was chair of the Low Pay Commission, which designed and implemented for the first time in the UK a National Minimum Wage, an accomplishment for which he was knighted by the Queen in 2001.    
He has served on the Boards of several companies, including Canada Life, Great West Life, and Bombardier Aerospace; he received the Canadian High Commissioner's Award for outstanding contribution to the special relationship between Canada and the United Kingdom; he holds eleven honorary doctorates; and his hobbies include playing the piano badly, ice skating, and Western horse riding.
The University of Winnipeg is proud to award George Bain an Honorary Doctor of Laws for impactful contributions to his field of study and his tireless work in creating policies that help build better societies. Bain's wisdom will continue to inspire and serve policymaking for years to come.