Ida Albo
Honorary Doctorate
---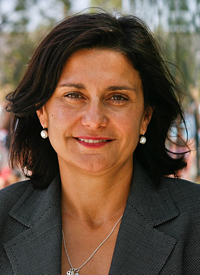 BA (Hons); MA
Honorary Doctor of Laws
Ida Albo is an accomplished economist, successful entrepreneur, and ardent community supporter whose impassioned generosity and civic pride drives her desire to improve the quality of life for all Winnipeggers. As co-owner of the iconic Fort Garry Hotel, Spa and Conference Centre, she has worked tirelessly for many years to restore the 1913 landmark and transform it into one of the city's finest hotels and most popular event venues. She followed up that labour of love by sharing her passion for yoga — co-founding downtown Winnipeg's Yoga Public.
Born and raised in Winnipeg's inner city, Albo exemplifies the values of hard work and a good education — instilled by her parents, who were new immigrants from Italy. 
Among her many volunteer commitments, she has served UWinnipeg as a member of the Alumni Association Council, as a Board of Regent, and as an active UWinnipeg Foundation board member and generous supporter of the Duff Roblin Gala Dinner, which raises funds for Indigenous scholars. She earned a BA (Honours) degree in Economics from UWinnipeg in 1981 and a MA in Economics from Queen's University in 1982.
Albo is a community booster who rolls up her sleeves and gets involved to strengthen the fabric of our city. She has given her time and energy to numerous community and charitable organizations, among them: CentreVenture Development Corporation, where she was instrumental spearheading the Plaza Skate Park as well as in the rebirth of Winnipeg's Central Park;  Canadian Tourism Commission; Health Sciences Centre Research Foundation; Manning Foundation; Cancer Care Manitoba, Winnipeg Symphony and the Pan Am Clinic Foundation. Albo is currently on the boards of Cancer Care Manitoba, Winnipeg Symphony, Canada Games 2017, and Manitoba Business Council; she is also Chair of the WAG Gala.
In recognition of her many years of service to others, Albo was awarded the Variety Children's Charity Gold Heart in 2010 and UWinnipeg's Distinguished Alumni Award in 2012. She was named a member of the Order of Canada in 2015.
The University of Winnipeg is proud to recognize Ida Albo — alumna, entrepreneur, fundraiser, community builder, and volunteer — with an Honorary Doctor of Laws. 
(photo supplied)