Ken McCluskey
Marsha Hanen Award for Excellence in Creating Community Awareness
---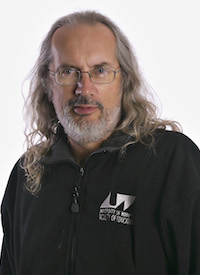 BA(Hons), MA, PhD
Ken McCluskey has made exceptional contributions to the field of education locally, nationally, and internationally. As professor and Dean of the Faculty of Education at UWinnipeg, he has devoted his career to finding ways of reducing the psychological, situational, and institutional barriers that prevent many learners from achieving their full potential. Under his leadership, the UWinnipeg team dedicated to discovering these "Lost Prizes" has inspired many around the world. 
The Faculty of Education has grown through McCluskey's vision, with innovative programs designed to address the needs of under-served and marginalized populations. The popular post-baccalaureate program offers specialization areas such as sustainability, counselling, and inclusive education. Working with the Winnipeg Education Centre, McCluskey has encouraged the very successful Community-based Aboriginal Teacher Education Program, which nurtures and supports Indigenous educational assistants as they become teachers in their own right, and he helped establish the Immigrant Teacher Education Program to make it possible for internationally trained teachers to gain a professional foothold in Manitoba.
McCluskey was instrumental in headquartering the World Council for Gifted and Talented Children at UWinnipeg for five years, and every summer since 2013 his team has attracted 200 educators to campus for Lost PrizesSeminars centred around the themes of diversity, at-risk youth, and the importance of nurturing creativity. McCluskey has also worked to open the world to our students, who have the opportunity to complete practica in many countries, including Thailand, China, and Germany. Many return to teach in Manitoba schools with an enriched knowledge of cultural diversity. 
A prodigious writer, McCluskey has more than 100 published journal articles and chapters, and more than 20 books to his credit, including Lost Prizes: Talent Development and Problem Solving with At-Risk Students. He has also generated millions of dollars in grants and contracts, delivered more than 225 keynote and invited addresses worldwide, and received numerous awards, such as the International Centre for Innovation in Education's first International Creativity Award presented by Princess Sumaya bint Hassanof Jordan and the prestigious Albert Einstein Medal for Distinguished Achievementfrom Ulm University, Germany.
For his transformative educational leadership, the development of innovative programs, and his lifelong dedication to youth, UWinnipeg presents Ken McCluskey with the Marsha Hanen Award for Excellence in Creating Community Awareness.