Roewan Crowe
Marsha Hanen Award for Excellence in Creating Community Awareness
---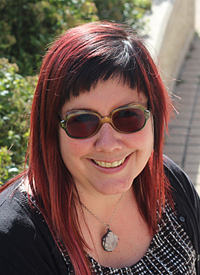 BA, MA, PhD
A renowned artist, writer, curator and teacher, Dr. Roewan Crowe exemplifies the powerful impact an academic can have in the community. Crowe is known for spearheading transformative community art projects in her role as co-director of UWinnipeg's Institute for Women's and Gender Studies (IWGS); for her work with Mentoring Artists for Women's Art (MAWA); and for her social justice activism on contemporary issues such as gender, racism and colonialism. She has received numerous awards throughout her career, including The University of Winnipeg President's Award of Merit on five separate occasions.
A feminist scholar, Crowe is a strong ally of Indigenous women and is dedicated to highlighting the issue of missing and murdered Indigenous women, girls, and those who identify as two-spirit. One of her most visible initiatives was the REDress Project at UWinnipeg, which saw IWGS partner with Métis artist Jaime Black on an installation of hundreds of red dresses representing those who have been lost. She has also helped facilitate a healing retreat for families, a teach-in, and, most recently, a roundtable conversation in support of the We Care Campaign.
Crowe has been a mentor to women developing as artists, writers and activists. She has led a four-day writing intensive for adult women from the Lord Selkirk Education Centre, worked with a research team to develop a meaningful oral history project with urban Aboriginal girls, and she co-founded the FemRev Collective to connect with young feminist activists. Her commitment to truly accessible programming — for example, by ensuring all events are free and providing bus tickets so that low-income community members can participate — helps ensure a wider range of involvement and engagement at UWinnipeg.
For being a collaborative leader, for her passion to find ways of reconstructing a better world, and for sharing the power of education with the community, The University of Winnipeg is honoured to present Dr. Roewan Crowe with the Marsha Hanen Award for Excellence in Creating Community Awareness.