Carlos Colorado
Marsha Hanen Award for Excellence in Creating Community Awareness
---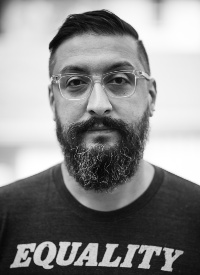 BA, MA, PhD
Carlos Colorado is an associate professor in the Department of Religion and Culture. During his exemplary career at UWinnipeg, he has emerged as a campus leader and public intellectual, with a visionary commitment to bringing the academy and community together.
As founder of the Centre for the Liberal Arts and Secular Society (CLASS) research network and the Axworthy Distinguished Lecture Series (ALS), Colorado has helped raise UWinnipeg's international profile. With a focus on social justice and the public good, ALS brings global thought leaders — such as Cornel West, Jane Goodall, Edward Snowden, Linda Tuhiwai Smith, and Slavoj Zizek — to the University for free public engagements. 
Colorado's teaching and research consistently seek to help students gain a deeper understanding of religion and culture through literature and film. His feature-length documentary, The Good Life: Decolonizing the Secular (2018), illustrates his commitment to building conversations among scholars, politicians, activists, and other community stakeholders, while enabling UWinnipeg students  to gain hands-on filmmaking skills. The film thoughtfully engages the question of religion in Canadian public life and contributes to the national conversation on decolonization and religious expression in Canada today.
In fall 2016, Colorado was appointed Chair of the Board of Directors at the Jane Goodall Institute of Canada (JGIC). This engagement enables UWinnipeg to collaborate in educational and sustainable research while offering opportunities for students and faculty to contribute to the important work at JGIC.
In recognition of his dynamic research, service, teaching, and public engagement — which have enriched the lives of students and scholars, enhanced the institution's reputation , and deepened public discourse —the University of Winnipeg honours Carlos Colorado with the Marsha Hanen Award for Excellence in Community Service.