Robert J. Young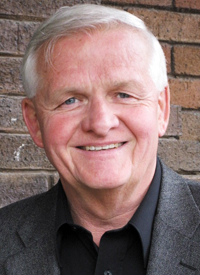 BA (Honours), MA, PhD
Dr. Robert J. (Bob) Young is Professor Emeritus of History at The University of Winnipeg. The excellence of his scholarship and teaching has been acknowledged frequently in the past 40 years by his peers at the University and among scholars in the international academy. Young represents the very best of UWinnipeg with regards to its espousal of scholarship, fluent and comprehensible teaching, and a deep commitment to intellectual inquiry as the basis of making a better world.
Young has been a tireless advocate for UWinnipeg's core values and has worked for many decades to strengthen and support them. The ideal of living in a university community of engaged learners has informed his own post-retirement practice on campus, whether as teacher in our High School Enrichment or Seniors programs, or as an activist in the UWinnipeg Club or the Retirees Association

Young is a prior recipient of the Clifford J. Robson Memorial Award for Teaching Excellence, the Erica and Arnold Rogers Award for Excellence in Research and Scholarship, and in 1996 he was named Canadian Professor of the Year. He is the author of ten books, including prize-winning biographies of two French political and diplomatic figures. His most recent, Premonitions of War: The Winnipeg Free Press in the Hitler Years, was published this year and is being used to generate funds for UWinnipeg Scholarships — including those of the UWinnipeg Alumni Association
Young's award-winning career as a teacher and scholar includes a distinguished record of serving the University as a mentor to innumerable students and colleagues. His dedication has been of extraordinary impact to the UWinnipeg community. The University of Winnipeg honours Dr. Robert J. Young as Fellow of United College.