Rev. Dr. Mac Watts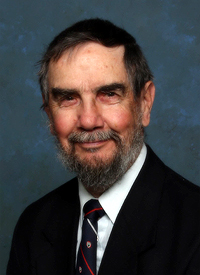 Mac Watts has served the United Church of Canada and The University of Winnipeg for more than 50 years with tireless dedication, influencing several generations of students and colleagues with the breadth and depth of his knowledge of Christian theology.
During those many years, Watts has served as an exceptional pastor, mentor, intellectual companion and theological conscience. He's taken on key leadership roles including Chaplain to the students of United College, teacher and then Dean of Theology at The University of Winnipeg.
A master communicator, Watts inspired more than one generation of United Church clergy to re-interpret and re-invigorate the Gospel for the contemporary world. He also reached a broader audience through his service on national committees with the United Church and service as President of the Canadian Theological society. Watts also edited the Touchstone Journal that, under his guidance, tackled issues such as the legacy of residential schools.
Just as importantly as his many accomplishments, Watts is described by those he has touched as straightforward, patient and kind - a man who served the University with great grace.