William (Bill) Fraser Rannie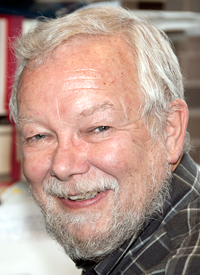 BA (Honours), MSc, PhD
The teaching, research, service and mentoring that Bill Rannie has provided over his 40-year career at The University of Winnipeg epitomizes what it means to be a professor at the institution. His involvement has spanned the entire scope of the University. He is a dedicated and accomplished scholar, having published many articles in both peer-reviewed journals and non-academic publications.
Highly regarded as a teacher — both by his colleagues and his students — Rannie aims to make learning interesting and relevant to his audience. His broad expanse of knowledge and desire to share it with others is evident by the number of different courses he has taught, using concepts and ideas that resonate with his students. Rannie's principle fields of research and teaching were hydrology, fluvial geomorphology, physical geology, and arctic environments, and he continues to make substantial scholarly contributions.
Rannie's greatest strength is his ability to understand and communicate with his colleagues, regardless of their discipline. He served as Chair of the geography department for 16 years and was always a cohesive presence, known for his administrative leadership, thoughtful deliberations, insightful comments and diligent attention to detail.
Rannie has served on countless committees, within and beyond his own department. He was a most able and collegial Chair of the informal Chair's Caucus, while in his more formal roles — such as representative of the Senate on the Board of Regents — he was an equally effective participant. Rannie's inclusion was sought after by many committees, and he strove to make the University a better place.
For his longstanding commitment to UWinnipeg, characterized by his intellectual contributions and truly exceptional service to both his department and the overall institution — while being active in all aspects of academic life — The University of Winnipeg honours Bill Rannie with Fellowship in United College.