André Oberlé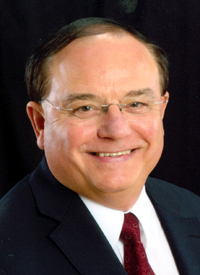 André Oberlé's commitment to The University of Winnipeg has spanned 37 years of dedicated service. His life-long passion for teaching and learning is evident when chatting with former students and colleagues. In addition, he's offered exceptional contributions to administration and self-governance.
Oberlé created a nurturing and supportive learning environment for his students as a gifted professor. Known for motivating his students, he helped them develop a real appreciation and understanding of the German language. His reputation for substance and style of presentation goes beyond our campus and includes the prestigious Goethe-Institute, where he was invited to teach German and develop programs.
He was instrumental in the University's amalgamation of the Germanic and French Studies departments. Oberlé played a key role in the process, exhibiting tact and diplomacy.
Oberlé built an international reputation as a pioneer and promoter of sound learning technologies, innovative teaching strategies and best practice learning assessment methods. Oberlé was instrumental in motivating faculty to venture into new teaching technologies and develop online courses. He was also promoted the `smart-classroom' development and expansion on campus.
Known for his solid and sensible style, Oberlé's excellent communication and mediation skills served the University well on more than 40 committees he chaired or contributed to as a member over the years. As an administrator, he served as Director, Centre for Innovation in Teaching and Learning, Associate Dean of Arts and Science, Consultant for Learning Technologies and Chair, Department of German Studies.