Rais Khan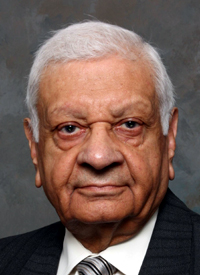 Rais Khan has had a long and distinguished career that spans over four decades in the department of politics at The University of Winnipeg during which he made significant contributions to the University's governance and to his field of study. With his tireless dedication and his breadth and depth of knowledge, Dr. Khan influenced several generations of students and colleagues. 
During his tenure as professor, Dr. Khan diligently contributed to the Senate and the Board of Regents. He took on key leadership roles and served on more than 80 University committees including those dealing with curriculum, personnel policy, merit, promotion, tenure, appeals, Faculty-Board relations and the committee to draft The University of Winnipeg Act. 
His peers have recognized Dr. Khan with numerous awards including a nomination for the Robin Farquhar Award for Excellence in Contribution to University of Winnipeg Self-Governance  He was elected to the College of Fellows; The International Association of Middle Eastern Studies; he earned the British Council Commonwealth Universities Interchange Fellowship; the Asia Foundation Graduate Fellowship; the First Arnold Schiff Memorial Award, the University of Michigan and the Fulbright Smith-Mundt Scholarship. 
Rais Khan is highly regarded among his colleagues for his work ethic, for his teaching, his research and his scholarly activity. Mr. Chancellor, on behalf of the Senate of the University of Winnipeg, I request that you admit Rais Khan to Fellowship in United College.