Carol Harvey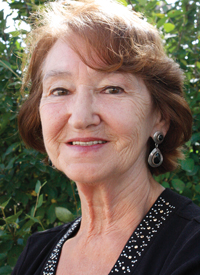 MA, L ès L, PhD

Dr. Carol Harvey's excellence in teaching, research, and community service has made an indelible mark on The University of Winnipeg. Universally loved by students and respected by colleagues, she has advanced French scholarship in Manitoba and abroad throughout her remarkable career.
Harvey joined UWinnipeg's department of French Studies in 1970; she is currently Professor Emerita of French and holds the research position of Senior Scholar.
She was integral in establishing language programs — including the exchange program with the Université de Perpignan in France — that have provided many opportunities and enriched the lives of countless students. Known for her meticulous preparation and curricular innovation, as well as her warmth and receptivity, Harvey was awarded the Clifford J. Robson Memorial Award for Teaching Excellence in 1980.
Harvey's extensive research on French literature and Francophone history has helped connect UWinnipeg to the French community in Manitoba and beyond. She has published numerous books and articles, and has presented her research locally and internationally. She is an expert on French author Gabrielle Roy, and was a founding member of the committee that transformed the writer's St. Boniface home into a museum.
She was also a founding member of the Canadian Society of Medievalists, serving as president and as co-editor of the Society's journal, Florilegium. For her research contributions, she was awarded the Erica & Arnold Rogers Award for Excellence in Research (2000) and was named a Knight in the Order of Academic Palms by the Government of France (1988).
Beyond academia, Harvey is noted for her community service. At UWinnipeg, she served within the Board of Regents, the Senate, the Faculty of Arts, and The University of Winnipeg Faculty Club. Off campus, she has held positions with several cultural and educational organizations, and was president of both the Alliance française and the Centre d'études franco-canadiennes de l'Ouest. In 1999, she received the Atchison Award for Community Service.
For her legacy of excellence, The University of Winnipeg honours Dr. Carol Harvey with Fellowship in United College.