David Fitzpatrick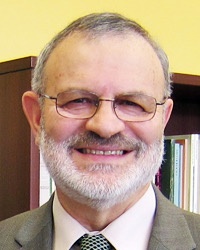 PhD, MEd, MEd, BEd, Ed. Cert., BPE
David Fitzpatrick established an award-winning legacy at the University of Winnipeg over a 25-year career in which he contributed to many significant developments across campus.
After distinguishing himself as a teacher in the Winnipeg School Division, and a physical education consultant at the Department of Education, Fitzpatrick joined UWinnipeg in 1990. He began as an instructor-rank faculty member in the Physical Activity and Sport Studies (PASS) program and after completing his PhD, was named an associate professor, and later full professor.

After PASS was restructured as a department, Fitzpatrick sat as the department's first Chair until 2004 when he was recruited to take on the role of Associate Dean of Arts. He eventually became the Dean of Arts and held that distinguished position until 2012.

Fitzpatrick returned to his roots in 2012 with an appointment as the founding Dean of the Faculty of Kinesiology. That role provided unprecedented responsibility for Fitzpatrick, who was tasked not only with guiding a new faculty through its infancy, but also the substantial duty of overseeing, with others, the design and construction of what would become the Axworthy Health and RecPlex.

The RecPlex initiative was a profound infrastructure development for the campus and Fitzpatrick played a major role in guiding the university through many challenges. The multisport facility has become a centrepiece on campus and in the community, and serves as a testament to Fitzpatrick's commitment and attention to detail.

Fitzpatrick's reputation as a fair-minded contributor to a variety of committees and task forces on campus earned him the 2015 Robin H. Farquhar Award for Excellence in Contributing to Self-Governance.

Fitzpatrick took pride in his teaching, specifically the development and delivery of courses in motor behaviour, an area of study in kinesiology. He had an active research program, focussing on children and youth with disabilities, in particular, Developmental Coordination Disorder — and was a co-recipient of a major SSHRC grant.

For a multi-faceted career that contributed greatly to a burgeoning era for the university's campus and its academics, the University of Winnipeg is pleased to honour David Fitzpatrick with Fellowship in United College.