Steve Coppinger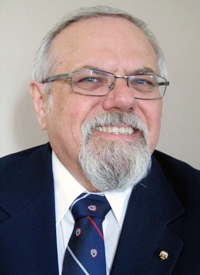 BA
Steve Coppinger has dedicated time and energy to UWinnipeg for more than 45 years, and although now retired, he continues to serve the University with enthusiasm.  
Coppinger first entered the doors of UWinnipeg as a teenager in 1967 as a Collegiate student. He would go on to earn a BA in Geography and as soon as he graduated, embarked on what would become a 36 year career at the University. For 18 of those years he was Associate Vice-President, Finance and Administration. His most marked characteristic continues to be his willingness to take on challenges and leadership positions that add value to the University, both as an employee and volunteer.
During his career Coppinger was involved in numerous campus activities, serving on the Board of Regents, Faculty and Staff Club, United Way campaign, UWinnipeg Interfaith Pastoral Institute and Western Canadian Pictorial Index. In 1994 his conscientious and diligent service was recognized with the Robin H. Farquhar Award for Excellence in Contributions to Self-Governance.
In retirement, Coppinger shifted his considerable energy to the University of Winnipeg Retirees Association and several committees of the University of Winnipeg Foundation. In 2010 he was an active and successful member of a small fundraising committee set up to create an endowed UWRA scholarship. The committee raised $40,000 for an award that recognizes students who demonstrate strong academics and community service. He continues to fundraise for another potential bursary to assist students.
Outside the University Coppinger has been active in community life, as a soccer coach, Cub Scout leader, President of the Rotary Club of Winnipeg – Assiniboine, and volunteer at events such as the Pan Am Games. Today he attends many University events and is an ardent supporter of the Wesmen.
For his many years of dedicated service to UWinnipeg's students, faculty and staff, we honour Steve Coppinger as Fellow of United College.