Diane Cooper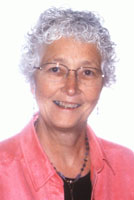 Dianne Cooper has made significant contributions to the social fabric of the province, and in so doing epitomizes the ethos of The University of Winnipeg. Throughout her lifetime, she has been a dedicated activist in the struggle for peace, equality for women, recognition of the plight of Aboriginal peoples in Canada, and global justice.
"Dianne has demonstrated leadership in local, national, and international contexts," wrote one of her nominators. Another noted, "She has given leadership at a variety of events for her church. At all of them, her contributions have been made in the areas of peace, conflict management, feminist theology, management options, democratic practices, and spiritual disciplines. A fine mix!"
Cooper, who completed coursework at The University of Winnipeg toward a Master of Religious Studies Joint Program with the University of Manitoba, served as Executive Secretary of the Conference of Manitoba and Northwestern Ontario, United Church of Canada, from 1985 – 1995. She was the first woman to hold that position and served as a role model for many women involved in the church.
Her community work has been extensive, serving as a member of The University of Winnipeg's Board of Regents for six years; Acting Speaker of the United Church of Canada's All Native Circle Conference for three years; United Church representative before the Royal Commission on Aboriginal Peoples; and, as a participant in Witness for Peace, a peace group that travelled to Nicaragua documenting experiences in war zones. She was also a member of the World Council of Churches' Advisory Committee to the Justice, Peace, and the Integrity of Creation (JPIC) event for four years, and a participant at the JPIC conference held in 1990 in Seoul, Korea. And she is a proud and long-time member of the Wesmen Basketball Booster Club—a passion she shared with her late husband Keith Cooper (United College Class of '51).
In 1984, Cooper helped co-found Project Peacemakers, a group working for peace and justice from a faith perspective. "Peace activist Helen Caldicott had spoken in Winnipeg and challenged audience members to do something in response to the then nuclear threat," Cooper recounted. "So a group of us, church people and other people of faith, decided we had to get past thinking that this issue was too big to tackle. We didn't want to tell our kids that we hadn't at least tried."
Project Peacemakers came to define and shape Cooper, who today remains involved as Chair of the Board. "Project Peacemakers changed our lives and allowed us to be active and live out something we believed in; not simply sit and groan about it," she said. "I feel like we made a difference – not to world leaders, but others."
Today, UWinnipeg is pleased to present Dianne Cooper with a Fellowship in The University of Winnipeg.
"I am quite honoured and proud," said Cooper, adding that her three daughters all graduated from UWinnipeg. "The University of Winnipeg is a very energizing and wonderful place."