Edward Byard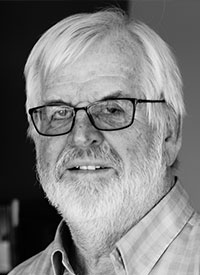 BA, PhD
Edward Byard's 37 years of service to UWinnipeg as a faculty member has left an indelible mark on the academic, administrative, and socio-cultural life on campus.
Byard has influenced generations of students throughout an academic career that includes a substantial record of scholarly publications in refereed journals, and teaching at all levels of the biology curriculum. His students note that he is "an excellent and inspirational teacher."
Byard served as Chair of the Department of Biology from 2000-2014 during a time when the honours program was growing rapidly. He helped to establish and administer the graduate program in biology in 2008—this was one of just two new graduate programs in science at UWinnipeg.  His national peers recognized him with the 2014 Career Achievement Award, presented by the Canadian Council of University Biology Chairs.
Byard's name is synonymous with the University of Winnipeg Faculty Association (UWFA); he served as secretary, vice-president and president for several terms. Most notably, he was UWFA's chief negotiator on four collective agreements. His administrative savvy and humane intelligence resonated beyond UWinnipeg negotiations, which led him to serve on provincial and national faculty union councils.
Byard is admired for his effectiveness and diplomacy in governance, which earned him the Robin H. Farquhar Award for Excellence in Contributing to Self-Governance in 2003. He devoted time to 20 different committees, with multiple years of service at all levels of the institution. He also served Winnipeg's Board of Regents, Senate, University Club, and as Chief Marshall at convocations.
Byard created a sense of community on campus as leader of the annual Class Acts, a talent show that has raised over $30,000 for student scholarships. He also made time to co-chair the United Way campus campaign.
Now retired, he contributes to the UWinnipeg Retirees' Association, sits as a UWinnipeg pension plan trustee, and can still be heard once in a while playing his banjo in the University Club.
The University of Winnipeg honours Edward Byard with Fellowship in United College for his well-rounded career of distinguished service, steeped in commitment to his colleagues and community.