Joseph Nnadi
Professor Emeritus
---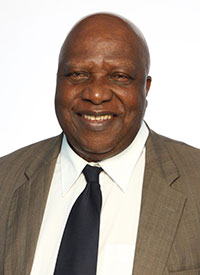 MA, MEd, PhD
Since his arrival at The University of Winnipeg in 1990, Dr. Joseph Nnadi has been an engaged member of the campus community. He retired as a Senior Scholar in 2012. Prior to his time at UWinnipeg, Nnadi led a successful career as lecturer, Head, Associate Dean, and Dean of Arts at various universities in Nigeria.
Nnadi is described as a dedicated and thoughtful colleague with very clear convictions, especially those relating to the academic integrity of universities, programs, and courses.
Nnadi's work is modern. He is informed by solid research and valuable insights from feminism and post-colonial literary theory. His passion for research is further reflected in his teaching, which has enriched the offerings to UWinnipeg students.
One area Nnadi has particularly enhanced through his innovative study is that of female African poets, such as Mariama Bâ and Mariama N'doye.
Nnadi is also an expert on French poetry: he has taught and developed courses in French poetry, drama, and novels of the 19th century. He has published several books, including two on Charles Baudelaire's vision of Africa and African women, which filled a gap in Baudelairian scholarship, and two others, on the history of black pioneers in Canada and in St. Boniface.
Nnadi is a renowned scholar in French literature whose reputation extends beyond UWinnipeg. He has refereed 27 articles; his insights and analyses are written with precision and sharp critical thinking in French, Caribbean, and African studies. Nnadi's fifth book, Humanities in Contemporary Nigerian Education, assessed educational options that are, more than ever, relevant in today's Africa and around the world.
The University of Winnipeg honours Dr. Joseph Nnadi as Professor Emeritus for his research, scholarly work, and engaged teaching in both the academic sphere and the wider community.