Eric Moodie
Professor Emeritus
---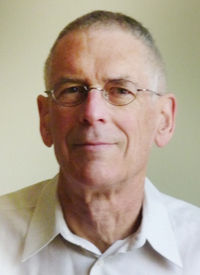 BSc, MSc, PhD

Dr. Eric Moodie has established a distinguished career at The University of Winnipeg. In his more than three decades of dedicated service, he has made significant contributions to the Department of Biology.  His notable excellence in scholarship and his commitment to students have made him a highly respected scholar, teacher and colleague at UWinnipeg.
Moodie's career is exemplary in the UWinnipeg tradition of carrying out excellent research in a primarily undergraduate setting. His performance allowed him to secure competitive National Research Council (NRC) and Natural Sciences and Engineering Research Council (NSERC) funding for 18 years, a considerable achievement for a scholar at an undergraduate university.
In addition to his NRC and NSERC research, Moodie carried out work for Manitoba Hydro — investigating walleye culture systems for northern communities — and filed a patent application for a fish feeder that he developed with colleague Gavin Baird. His work is recognized internationally.
Moodie's teaching is well-received and he continuously involves his undergraduate students in his research and publication. Colleagues and students note his low-key manner, along with his calm and meticulous preparation for classes.
Moodie was integral in establishing the Biology Honours Thesis course, which left a legacy in the department. His evolution of this course has become a model for other departments that wish to revamp honours programs. Moodie's genuine commitment to and concern for his students has created generations of highly qualified researchers in the field of biology and beyond.
He is held in high regard as a collaborative researcher. Scrupulously honest, thorough and detailed in his approach to science, Moodie is enthusiastic about the subject matter and possesses encyclopedic knowledge of his field.  He is considered a mentor to young faculty members and his students.
Moodie has conducted innovative work throughout his career, which has contributed greatly to the biology department's success and reputation of excellence in scholarship that reflects proudly on the institution.  The University of Winnipeg honours Dr. Eric Moodie as Professor Emeritus.