Royden Loewen
Professor Emeritus
---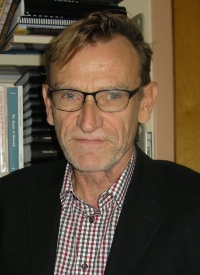 BA, MA, PhD, CertEd
Royden Loewen is a prolific scholar in the area of Mennonite history. His distinguished work in teaching, mentorship, and research, while serving as Chair in Mennonite Studies for over two decades, reflects his commitment to and extraordinary influence in his field of study.
Loewen's vast range of scholarship delves into economics, gender, and religious life of the everyday, set within migration and environmental history, all with the aim of explaining the survival and transformation of a major cultural group that retains high visibility in Manitoba, across the Americas, and indeed around the world. His enormous body of interdisciplinary study, devoted to the history of Mennonite communities, transcends continents and has illuminated many facets of ethno-cultural and social history. He has continued to receive Social Sciences and Humanities Research Council (SSHRC) funding for his work.
As founding director of the Centre for Transnational Mennonite Studies, Loewen has built on a program established by his predecessor, Dr. Harry Loewen, and looked for opportunities of giving Mennonite Studies a global standing and communicating scholarship to a broad audience that extends beyond academia. He has served as a visiting scholar nationally and internationally, including at Cambridge University.
As Chair in Mennonite Studies, Loewen convened or co-convened 25 conferences and his impressive list of publications include 10 books (that is, 7 monographs, 2 co-authored monographs and 1 edited volume), 25 scholarly articles, 13 book chapters, and 75 book reviews. He has adjudicated 12 book manuscripts. He was editor of the Journal of Mennonite Studies for 24 years and is series editor of the Ethnicity and Culture History Series at University of Manitoba Press.
Loewen's personable nature, sharp intellect, and engaged teaching style enhanced the student experience, undergraduate and graduate alike, and helped advance the students' own career and publication possibilities, cementing his leading role as a scholar in Mennonite historical studies.
For his prodigious scholarship, teaching, and significant contributions to the field of Mennonite history, The University of Winnipeg is proud to honour Royden Loewen as Professor Emeritus.