John 'Jock' Lehr
Professor Emeritus
---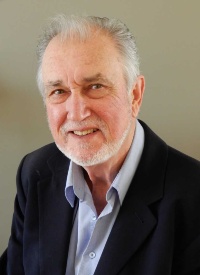 BA, MA, PhD, CertEd
Throughout his 36-year career at The University of Winnipeg, which lasted until his retirement in 2012, John Lehr exemplified creativity, curiosity, and dedication to his work. He was a beloved, enthusiastic, and incredibly well-respected professor in the Department of Geography.
A prolific publisher with more than 100 publications to his name, Lehr was among UWinnipeg's top researchers. He provided works to regional journals and national publications, and presented throughout Canada and abroad. Lehr published six books, including Inside the Ark: The Hutterites in Canada and the United States, with Dr. Yossi Katz, and Community and Frontier: A Ukrainian Settlement in the Canadian Parkland, both of which received the Margaret McWilliams Award for Scholarly History from the Manitoba Historical Society.
Lehr's interest in and research of the settlement of the Canadian prairies is world renowned, and he is an authority on the ways in which ethnic and religious groups such as Hutterites, Ukrainians, Jews, Mennonites, and Mormons shaped the cultural landscape.
Affectionately known as 'Jock', Lehr was always eager to mentor and was a regular thesis supervisor for UWinnipeg's honours students. He encouraged them to refine and deepen their work and to present it both regionally and nationally. Lehr has been praised for his teaching style, affability, willingness to provide guidance, and interest in the careers of students. His influence was recognized in 2005 when he was awarded the Clifford J. Robson Memorial Award For Excellence in Teaching, as chosen by a committee of faculty, staff, and students.
Beyond UWinnipeg, Lehr has served on the national, provincial, and municipal level, including leadership positions with the Canadian Ethnic Studies Association, Social Science and Humanities Research Council Evaluation Committee, Manitoba Museum Board of Governors, Manitoba Historical Society, and Heritage Winnipeg.
For his outstanding scholarship, exceptional research, and commitment to students, The University of Winnipeg is proud to honour John Lehr as Professor Emeritus.