Sandra Kirby
Professor Emerita
---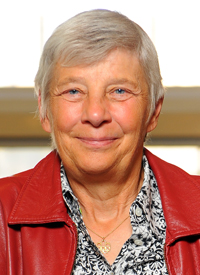 Dr. Sandra Kirby is an accomplished teacher, researcher, scholar and administrator and a former Olympic athlete with the Canadian Rowing team who has dedicated much of her career to eradicating sexual harassment and abuse, homophobia and violence against children in sport. She has a deep history with The University of Winnipeg, having joined the Department of Sociology in 1989, serving as Chair for nine years, and serving on and chairing numerous committees. She served many years on Senate and was also elected to the Board of Regents. She was appointed Associate Vice President, Research and Dean of Graduate Studies in 2007. In these roles, Kirby was instrumental in developing the first suite of stand-alone graduate programs at UWinnipeg, including the prestigious Master's in Development Practice – Indigenous Development; she was the principal collaborator in preparing that program's concept paper for the MacArthur Foundation. She also facilitated the process that resulted in the $10 Million NSERC grant by Dr. Jeff Martin, the largest the University had ever received. Kirby is the author or co-author of ten books in addition to more than thirty book chapters, reports and refereed articles. She has another book in development.
Complementing her substantive research, Kirby possesses a curious nature and wisdom that has touched thousands of students. She is a well-known research methodologist, particularly in the areas of marginalized communities and sensitive data. Her work has extended to include research ethics, disability, policing in racialized communities, palliative care, and human rights and homophobia in sport. Her work as a core member of the International Task Force on Harassment and Abuse in sport has more recently focused on the establishment of the World Safe Sport Agency.
Kirby has brought considerable prestige to UWinnipeg through her engagements with the International Olympic Committee on Child Protection in Sport, UNICEF, the Canadian Association for the Advancement of Women and Sport, Status of Women Canada, and the Manitoba Innovation Council. In these roles she has acted as an international ambassador for UWinnipeg, and a tireless champion of human rights.
The University of Winnipeg honours Dr. Sandra Kirby as Professor Emerita.