Robin H. Farquhar
President Emeritus
---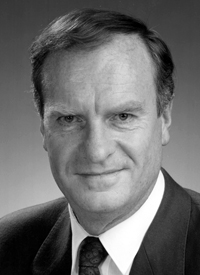 Dr. Robin H. Farquhar served as the third President and Vice-Chancellor of The University of Winnipeg, from 1981 to 1989.
In a time of heavy fiscal restraint, Farquhar demonstrated exceptional diplomacy and sensitivity, as demonstrated by his success in obtaining various grants to address under-funding issues. Farquhar commonly referred to UWinnipeg as an "urban university" and as such, was passionate about the university's entrenchment in local issues and events, the recruitment of a larger student body, and the development of outreach programs that would involve as many members of the larger community as possible. His dedication to the establishment of an expanded University community was evidenced through his many noted achievements – including the Athletic Centre, which became known as one of the best athletic facilities in Canada. Throughout his presidency, Farquhar worked tirelessly to build the reputation and profile of UWinnipeg by becoming an esteemed ambassador through his community involvement and strong relationships with government and business leaders.  
In honour of Farquhar's steadfast commitment to maintaining the autonomous nature of the university, the Robin H. Farquhar Award for Excellence in Contributing to Self-Governance was established in 1989 by the Board of Regents. 
Prior to arriving at UWinnipeg, Farquhar received B.A. (Hons.) and M.A. degrees in English from the University of British Columbia. He completed his Ph.D. in Education Administration from the University of Chicago and later served as Dean of Education at University of Saskatchewan. After departing UWinnipeg in 1989, Farquhar joined Carleton University in Ottawa as President and was later accorded the title of Professor Emeritus of Public Policy and Administration. 
Farquhar has chaired the Canadian Bureau for International Education and is former president of both the Canadian Society for the Study of Education and the Commonwealth Council for Educational Administration. An author of over 100 published books and articles, Farquhar is a well-respected international consultant in matters relating to higher education policy and management.