Henry Edmison Duckworth (Posthumous)
President Emeritus
---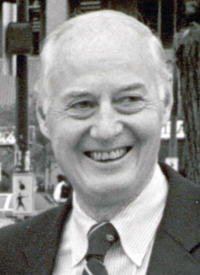 BA, BSc, PhD, O.C.
Dr. Henry Duckworth's deep and enduring relationship with The University of Winnipeg dates back to 1932, when he was a student at Wesley College. Over the decades, his contributions were many and his generosity to UWinnipeg was immense.
Duckworth graduated in 1935 and taught physics at United College from 1938 to 1940. He had a distinguished teaching and research career as an accomplished physicist and in 1954, became UWinnipeg's first Royal Society of Canada Fellow; he was named a Fellow of United College in 1966. Duckworth returned in 1971 to become the second president in The University of Winnipeg's history, a position he held until 1981. That year he became President Emeritus of The University of Winnipeg and in 1984, received an Honorary Doctor of Laws. Duckworth was also an inaugural member of The University of Winnipeg Foundation's Board of Directors.
Duckworth's impact on student life at UWinnipeg was significant and continues to this day. The Duckworth Centre, slated to house the University's new Wellness Centre, hosts the Wesmen family and the annual Duckworth Challenge, along with the student fitness activities and dozens of community events every year. Even when he was well into his nineties, Duckworth could be found cheering on the Wesmen.
The beloved Great Rock Climb that began in 1972 was the brainchild of Duckworth, celebrating endurance, ingenuity and teamwork. Duckworth's name and support also belongs to several annual student scholarships. Henry Duckworth passed away in December 2008 at the age of 93; his legacy at The University of Winnipeg lives on.