Enid Brown
Instructor Emeritus
---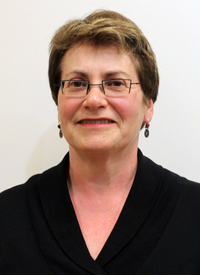 BA, MSc
Instructor Emeritus, Department of Kinesiology and Applied Health, Faculty of Kinesiology
Enid Brown worked at The University of Winnipeg for close to three decades, as an Instructor, Coordinator, and Chair, leaving a legacy of significant contributions before her retirement in 2011. She has been an integral force in the development, growth, and creation of the Faculty of Kinesiology, which was approved by Senate and officially came into being on July 1, 2012. This accomplishment is a credit to Brown's vision, passion and commitment to her field of study.
Brown has been a consummate teacher who garnered the respect of her students, colleagues, and peers. She constantly updated her course materials, making them relevant and sought after by students. She was consistently a favoured instructor and nominated often for the Robson Teaching Award — the highest honour students can give their teacher. One former student, now a surgeon, credited his preparation in part to taking the "best Anatomy course ever from Enid Brown".
Active in research, and in presenting at conferences, Brown has been published in peer-reviewed journals, and was a contributing author to a popular Kinesiology textbook. She completed all requirements for her PhD but chose not to continue her studies in favour of her passion for students and her teaching.
Brown was responsible for creating a work environment that contributed substantially to the growth and evolution of Kinesiology at The University of Winnipeg. Considered a pioneer in the department, Brown has been a transformative leader. She is a strong advocate for health and fitness within the University, and became one of the leading advocates in the province.
Brown's devotion to her field went beyond the classroom and research. She remained constant in dedicating her time to the advancement of health professionals in the community. She worked actively in the external community, establishing and maintaining contacts with local, provincial and national exercise and sport science associations. She was a leader among the certified Exercise Physiologists in Manitoba and in promoting the regulation and need for physical fitness on the front lines of our health care system.
Brown has served on numerous councils and boards, such as the Manitoba Fitness Council, through which she presented at national meetings on the direction of fitness leadership certification in Canada. Her other professional affiliations are numerous and include the Canadian Council of University Physical Education and Kinesiology Administrators, the Physical Activity Coalition of Manitoba, and Canadian Society for Exercise Physiology.
Brown is a rare combination of leader and a consummate team player. Her noteworthy commitment and vision have made a substantial difference to the Department of Kinesiology and Applied Health, and is she deserving of this honour.