Neil Besner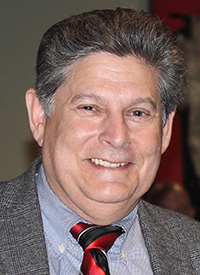 BA (Hons), MA, PhD
Neil Besner began what became a distinguished career at UWinnipeg when he joined the Department of English in 1987. Known for his integrity, love of language, and sharp wit, Besner accumulated an impressive record of contributions in all domains of the University — including scholarship, community, and administration.
Nominated four times for the Clifford Robson Teaching Award, Besner has balanced his deep commitment to both teaching and scholarship. He enjoyed a prolific and influential research career; has authored over 50 journal articles and book chapters; published 10 books (as author, editor, or translator); edited two special journal issues; and served as the general editor of the Laurier Poetry Series (currently, 30 volumes in print).
The scope of Besner's teaching has been remarkable both in breadth and depth. His expertise on Alice Munro, Carol Shields, and Mavis Gallant, amongst others, has been recognized internationally in publications, major presentations, and thesis adjudication.
An active member of the Manitoba Writers' Guild and the Writers' Festival, Besner has provided his expertise to local writers through Prairie Fire and Turnstone Press. He has received numerous research grants, including substantial funding from the Social Science and Humanities Research Council (SSHRC).
Besner's transition into formal leadership began in 1993, when he became Chair of the Department of English. Over the ensuing decades, he held many senior administrative roles. He was the founding Dean of Arts and served in several vice-presidential capacities. He retired in 2018 as Provost and Vice-President, Academic.
Besner has served in all aspects of university governance, including on the Board of Regents and more than 30 committees, and helped lay the groundwork for the Department of Rhetoric, Writing, and Communications. His eloquent manner created a sense of collegiality that persisted even during collective bargaining; he has served on both sides of the table, as a UWFA representative and as a university administrator.
In 2009 Besner was recognized with the Marsha Hanen Award for Creating Community Awareness. In appreciation of his scholarly work, advocacy for liberal arts education, and longstanding commitment to UWinnipeg that transcends the classroom, The University of Winnipeg is proud to honour Neil Besner as Professor Emeritus.