Gerri Zacharias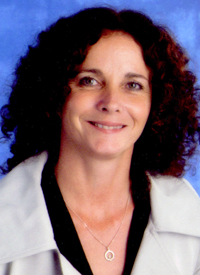 BEd, Post-Baccalaureate Certificate
Gerri Zacharias is a passionate and tireless teacher 24 hours a day, 7 days a week. She answers calls and texts from students, their families and colleagues evenings, weekends and throughout the summer.  As Acting Director of UWinnipeg's Collegiate Model School, she spends her summer months researching and writing scholarship and bursary applications so that each of her students may succeed in attending a post-secondary institution.
The Model School, created in 2008 in partnership with the community, has 40 students from grade 9-12 who are identified as being bright and capable but have various barriers that could prevent them from reaching their potential. Gerri nurtures each individual's unique potential and with her staff has created a learning environment that is inclusive and energizing. She has also been an active volunteer coordinator with UWinnipeg's Eco-Kids on Campus program which brings grade six students from three inner city schools to campus weekly to learn about science and the environment. Gerri is an integral part of UWinnipeg's popular Eco-Kids Summer Camp which to date has allowed more than 6,000 inner city children to attend fun, free day camps and stem summer learning loss. The scope of this program, which has grown to become the largest day camp in Winnipeg's inner city, requires tremendous dedication and organization to operate. Gerri is both the backbone and the heart of the Eco-Kids programs.
Gerri has a quiet strength and is a role model and mentor to many.  Former students return to visit and hang out and seek advice. As one recent Model School graduate named Brandon says, "I always pictured myself graduating from a public school a few years late and doing everything myself. When Gerri came into my life, I knew it does not have to be like that. My grades have been improving and I've been eating properly. Some of the barriers I faced are gone and I can finally focus on school, basketball and the people who are close to me."
Brandon is one of 29 students who have now graduated from the Model School under Gerri's direction, with the majority going on to pursue post-secondary studies.
For her outstanding dedication, compassion and determination on behalf of inner city youth, The University of Winnipeg proudly bestows on Gerri Zacharias the Clarence Atchison Award for Excellence in Community Service.