Anna Stokke
Clarence Atchison Award for Excellence in Community Service
---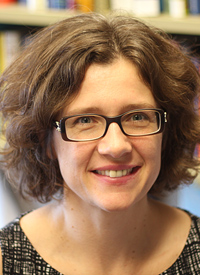 BSc, MSc, PhD
An associate professor of mathematics, researcher and education activist, Dr. Anna Stokke has had a profound impact on math education policy and curriculum in Canada. She has personally provided high-quality math instruction to children from all walks of life and has improved the math skills of thousands of Canadian students through education and advocacy. 
Stokke was dismayed when she discovered that every Canadian province (except Quebec) had a significant decline in math scores on international assessment tests over a ten-year period. Studies show that children's math achievement is a stronger predictor of future academic success than reading. Recognizing the math crisis, she passionately engaged parents and all levels of government in improving math education in Manitoba and across the country.  Her advocacy resulted in revisions to the Manitoba math curriculum in 2013, affecting and improving the math skills of over 100,000 Manitoba students.
Stokke has spent countless volunteer hours working with children and reviewing evidence-based research to find out how children learn math.  She continuously tests and refines her teaching methods and has helped hundreds of children who might otherwise have fallen behind.
Stokke co-founded and leads two organizations that improve mathematical literacy:  WISE Math (Western Initiative for Strengthening Education in Math)— one of Canada's most successful advocacy groups, which was created with Robert Craigen — and Archimedes Math Schools (AMS), which she started in 2012 with her husband, Ross Stokke. AMS had its roots in a math club the Stokkes ran out of their home. It is now a burgeoning and popular not-for-profit after-school program for children in grades four to six that is known to significantly improve math skills and has helped over 300 young people since its inception. The Stokkes have also organized summer math readiness workshops for inner-city children in UWinnipeg's Wii Chiiwaakanak Learning Centre since 2013.
Stokke has also advocated for the use of JUMP Math, a program designed by a national charitable organization, and worked with the Winnipeg School Division to initiate a pilot JUMP program.
The University of Winnipeg honours Anna Stokke with The Clarence Atchison Award for Excellence in Community Service, for her lasting impact on the community and our country through her unwavering commitment to enhancing math literacy and ensuring its accessibility for all children.