Mark Ruml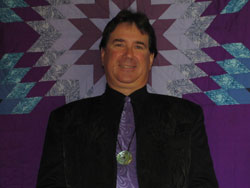 Mark Ruml has spent much of his professional and personal life immersing himself with openness and humility in the renaissance of Aboriginal spirituality among Canada's Indigenous people. As Assistant Professor, Religious Studies at The University of Winnipeg, he has devoted himself to the scholarly study of this renaissance while integrating the lived realities of First Nations people into his research and teaching.

Ethical Issues
Ruml has worked to make the teachings of Cree Elder Louis Bird more accessible to the broader community. He published "Respectful Methodology: Methodological and Ethical Issues in Aboriginal Religious Traditions" to help guide respectful research in First Nations communities. He has offered education and healing among inmates, and has been involved in teaching and developing curriculum in Children of the Earth School.
As a founding member of the White Buffalo Spiritual Society, a non-profit Aboriginal organization with charitable status, Ruml served as secretary of the Board of Directors (1998-2005) in a volunteer capacity, helping to obtain a site in Birds Hill Provincial Park in which to hold the annual Sundance ceremony. He attends sweatlodges, pow-wows, sundances and other spiritual and social events that bind the First Peoples of the Great Plains.

His colleagues describe Ruml as kind, unpretentious and approachable.