Jino Distasio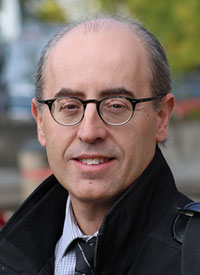 BA, MA, PhD

Jino Distasio is the Vice President of Research and Innovation at The University of Winnipeg and has served as director of the Institute of Urban Studies (IUS) for 15 years. He is also a faculty member in the Department of Geography and a true public scholar who engages the wider community through applied research.
From his earliest academic work and in his current projects with the IUS, Distasio has remained committed to supporting local communities and relationship-building. As a teacher and a mentor, he emphasizes the importance of providing opportunities for students and community members to work with the IUS team.
Distasio's focus of study and applied research seeks to address issues of access and affordability related to housing — so as to advance innovative solutions and policies to help solve homelessness. His sought-after expertise makes him one the most quoted urban specialists in Canada, and he holds several adjunct appointments at the University of Manitoba.
Distasio has managed to successfully connect community and academia while seeking solutions to improving Winnipeg's urban landscape. He has worked in Winnipeg's inner city, facilitating high-quality community-based national studies that pertain to Canadian and global urban issues. Notably, he served as co-principal investigator in a $110-million project examining homelessness and mental health in Canadian cities — the largest such initiative to be conducted globally. 
Distasio's collaborative and inclusive style has drawn an assortment of partners to the table, helping bridge some of Winnipeg's social divides. His cooperative leadership style has made Winnipeg a world leader in developing an Indigenous-led Housing First model.
Distasio has served on many boards, including The International Centre for Infectious Disease, Prairie Isotope Partnership Enterprise, Habitat for Humanity, Westminster Housing Society, The University of Winnipeg's Community Renewal Corporation, and at his local community centre in Riverview.
For his impactful research on urban issues and commitment to helping create more socially just cities through accessible housing, The University of Winnipeg is proud present Jino Distasio with The Clarence Atchison Award for Excellence in Community Service.