Sherman L. Kreiner
100th Convocation Awards
---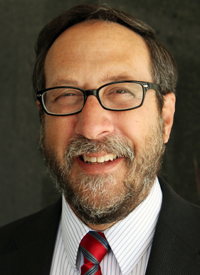 JD

Sherman Kreiner has been a community economic development practitioner for 35 years. In the United States, he helped establish successful worker co-ops in food retail, home care and child care. He has written extensively on employee ownership. Esquire Magazine named him one of the "Men and Women under 40 who are Changing the Nation." He also received the Ohio Employee Ownership Leadership Award.  
Kreiner was a member of the UWinnipeg Board of Regents from 2000-2005, including acting as Deputy Chair. He was a founding director of The University of Winnipeg Foundation and The University of Winnipeg Community Renewal Corporation (UWCRC), where he serves as Managing Director.
UWCRC's mandate is to build a University community incorporating four pillars of sustainability – environmental, social, economic and cultural. UWCRC has implemented a comprehensive campus plan, including the construction of five LEED Silver or Gold facilities.
UWCRC partnered with SEED Winnipeg to create a new University food service, Diversity Foods, which offers local, organic and ethnically diverse foods, while employing new Canadian and Aboriginal workers.
In 2012, Kreiner became UWinnipeg's Vice-President, Student Life.