UW's new "Centre for Access to Information and Justice"
Fri. Nov. 8, 2019
When Dr. Kevin Walby of the Department of Criminal Justice approached me about highlighting the new Centre for Access to Information and Justice (CAIJ), I had assumed that the Centre's interest in access to information would be limited to the legal aspects of information and privacy laws. However, in reading the material he provided before we met, I quickly saw this was about something much broader. In particular, one sentence in the blurb for his new book (with Alex Luscombe), Freedom of Information and Social Science Research Design (Routledge, 2019), see below, highlighted for me the importance and scope of this work, and that is this: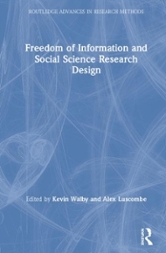 "Freedom of Information and Social Science Research Design" (Routledge, 2019) by Kevin Walby and Alex Luscombe

"Considering the challenges and dilemmas in using freedom of information processes in research, [the book] examines the reasons why many scholars continue to rely on more easily accessible data, when much of the real work of governance, the more clandestine but consequential decisions and policy moves made by government officials, can only be accessed using freedom of information requests."
I was keen to meet with Dr. Walby, Director of CAIJ to find out more about the new Centre, how freedom of information disclosures are used as data for research, and the role these might have in the access to justice.



Can you start by talking about how access to information (ATI) and freedom of information (FOI) can play an important role in research?
According to Dr. Walby, ATI and FOI are powerful tools that can be used to learn about the state. Researchers and investigators can use FOI disclosures to tell a story about how the state or government is operating, as opposed to replying exclusively on government rhetoric, formal announcements, etc. It is a way of getting the inside track on what is really happening, he says.
While he is most familiar with its use in the social sciences, Walby goes on to say that he can see a role for the use of ATI and FOI in the humanities as well, where for example, the government could be monitoring a literature scholar who is thought to have "subversive ideas." Dr. Walby adds that he has seen FOI disclosures used as data in research studies in the natural sciences too – and with big payoffs. For example, a recent study of the frequency of oil spills using data from FOI disclosures found that the frequency of oil spills was vastly higher than had been publicly reported.
How did you get interested in this kind of work?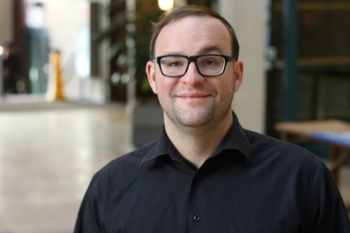 Dr. Kevin Walby envisions a series of working groups in CAIJ centered around particular themes.
Photo credit: Naniece Ibrahim
Dr. Walby says that his interest in access/FIPPA law came through his work with a student-run Public Interest Research Group or PIRG. At the time he was a PhD student and had connected with a network of critical researchers who were using FIPPA law to access information from powerful government bodies, and he could see the application to his own work.


In fact, PIRGs are such an effective way to work, that Dr. Walby envisions having a series of these in CAIJ as working groups organized around particular themes (such as access or policing). As well, Walby suggests that, in the long-term, he would like to see CAIJ involved in the formation of a student-led PIRG through UWSA.
I see you have a Call for Papers for The Study Up, a peer-reviewed publication featuring critical, investigative research that uses FOI disclosures as data. Could you tell me more about that?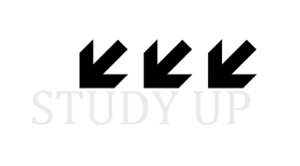 "The Study Up" will have engaging and interactive content that investigates the state and cooperate bodies that govern our lives.
Dr. Walby explains that "The Study Up" is open to researchers, journalists and activists. For "The Study Up," he says, they are looking for papers that are shorter and punchier than you might find in other journals, and for work that has engaging and interactive content. As the name suggests, the specific mandate of "The Study Up," he says, is to investigate state and corporate bodies that oversee our lives. Walby adds that this is a concept that has been used in anthropology and they think that it will also be effective in this area. In fact, anthropologist Laura Nader, who coined the term "study up," has agreed to write an introduction for the inaugural issue.
As an example, Dr. Walby tells me about a recent study by Dr. Tia Dafnos, a criminologist at University of New Brunswick, who found using access to information disclosures, that the RCMP had been tracking Indigenous protestors and monitoring them online as part of a critical infrastructure protection project. Having access to this information is important in a couple of ways, Walby explains. For one thing, he says, people should know this type of thing is happening and in actual fact, many people don't. Second, once that information is available, others can mobilize. For example, a journalist could write an article or a civil liberties group might be able to determine that the surveillance was illegal and address that.
According to Walby, Dafnos's work illustrates why ATI and FOI disclosures are important as data sources; you simply would not be able get this type of information using other research techniques, such as interviewing RCMP. In fact, Walby claims, the use of FOI disclosures as research data has been so effective that it is altering how research is being conducted in sociology and criminology. Dr. Walby cautions, however, that there is a danger in simply assuming that information gathered in this way is the whole truth. Instead, Walby says that in their book, "Freedom of Information and Social Science Research Design," he and co-author, Alex Luscombe, contend that researchers should triangulate their findings obtained using FOI disclosure with information acquired in other ways to confirm its validity. This might be through the use of material from the media, open access texts, interview or observation.
We've talked about "access to justice," but of course it's the Centre for Access to Information and Justice. Can you say a bit the "access to justice" piece and how that ties in with "access to information"?

Dr. Walby explains that access to information is essentially access to justice. He uses the example of someone who has been wrongfully convicted as an example. It might take a couple of years of digging through police files to access and bring forward information that might exonerate that person. For this reason, Walby says that CAIJ will be encouraging community groups to consult with CAIJ.
Lisa McLean
Faculty of Arts


Get involved!
As we saw, there is a call for papers for "The Study Up" and there are plans to have several working groups organized around particular themes. But there are a several other ways you can get involved as well.
Contact
For more information, you are asked to contact Dr. Kevin Walby by phone (204-786-9105) or e-mail (k.walby@uwinnipeg.ca).
See also:
Links