Other Collections
Anthropology Museum
---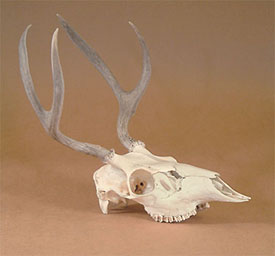 Specimen F1A-11-1 Mule Deer (Odocoileus hemionus). Mule deer inhabit the southwest of Manitoba, preferring habitats such as aspen parkland, river valleys and steep uneven terrain, and open sub-climax coniferous forest.
The Anthropology Museum also houses an archival collection consisting of recordings, images, books, maps, field notes and other materials related to the curatorial, research and teaching functions.
As well, the Museum also has several reference collections. The largest of these is the Zooarchaeological Reference Collection.  Bones and shell recovered from archaeological sites are usually fragmented.  Accurate identifications are made by comparing archaeological specimens to a modern reference collection.  The Anthropology Museum's Zooarchaeological Reference Collection has over 200 specimens representing 50 species of mammals, birds, reptiles, amphibians, fish, and mollusks common to Manitoba.  Many of the specimens in this collection were prepared by students; some were volunteers, some were hired to process skeletons, and others were completing course work.