Accessibility Services & the Accessibility Resource Centre
Student Services
---
In collaboration with the students, faculty, and staff at The University of Winnipeg, Accessibility Services (AS) and the Accessibility Resource Centre (ARC) facilitate and promote the ongoing development of an accessible learning environment which provides students with disabilities or medical conditions the opportunity to participate fully in all aspects of campus life.

Location:
Accessibility Services (AS), Deaf and Hard of Hearing Services, and the Accessibility Resource Centre (ARC) are located in room 1M35, the offices in the Northwest corner of Manitoba Hall on the main floor. The closest accessible pickup and drop-off point is the Ellice Avenue campus entrance (Lockhart Hall, which is just around the corner from our offices).

General Information: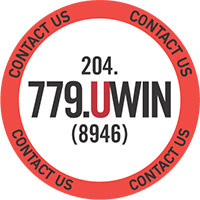 For general information on our services, you may download a digital copy of our brochure for a condensed version of some of the information on this website.
For additional information, or to register for academic accommodations please contact Accessibility Services at 204.786.9771 or through email at accessibility@uwinnipeg.ca. Regular office hours are: Monday through Friday from 8:30AM to 4:30PM
News:
University of Winnipeg students are invited to participate in a Focus Group on November 7, 2016.
The purpose of the focus group is to provide feedback on accessibility at the University of Winnipeg.


Date: Monday, November 7
Time: 4:00-5:00 pm
Location: Room 1M35 – the new Accessibility Services location in Manitoba Hall
We are asking about your experiences of what has worked well and what suggestions you have for improvements in accessibility on campus.
This information will be used as we continue to develop the University of Winnipeg's Accessibility Plan as part of the Customer Service Standard and the Accessibility for Manitobans Act.
None of the feedback shared will be attributed to particular individuals. We will use first names only and we will not be requesting information about disabilities or health conditions beyond that which you are willing to share.
The focus group discussion will be facilitated by Anthony Anirud, and Dianna Scarth, University of Winnipeg Human Rights and Diversity Officers.  
Refreshments will be served.