Dr. Teruka Nishikawa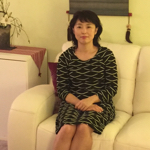 Title: Contract Instructor
Email: t.nishikawa@uwinnipeg.ca
Biography:

Teruka Nishikawa, born in Hiroshima, received Doctorate degree in Music at the University of Alberta. Her expertise is in women's role and contribution to the Western music's acceptance in the 19th to early 20th -Century in Japan. Also, her research interest focuses on Japanese language and music. She has been actively presenting papers on both research and case studies in Japanese language pedagogy conferences. She is currently completing Master's degree in Japanese Language Pedagogy at Columbia University.
Teaching Areas:
Japanese language.
Courses:

Intermediate Japanese Language (EALC-2100)
Research Interests:

Japanese language Pedagogy: teaching culture and language; Japanese language pragmatics: tense and aspects; Japanese culture: westernization; Western music and women in Japan.
Publications:
Teruka Nishikawa, Wisely Berg and Janice Brown, From "Good Wife, Wise Mother" to the Otaka Award: Japanese Women Composers 1868 to the Present, U.S.-Japan Women's Journal (English Supplement), number 22, 2002. P.87- 105.