Dr. Jane Barter
Religion and Culture
---
Title: Professor
Office: 4M34
Building: Manitoba Hall
Phone: 204-789-1453
Email: j.barter@uwinnipeg.ca
Biography:

Jane Barter is originally from Antigonish, Nova Scotia. She earned her BA in English at Dalhousie (1991), her Master's degree from the Atlantic School of Theology (1994), and her PhD from the University of St. Michael's College at the University of Toronto (2004).  Her research interests include Christian political thought, feminist theory, and continental philosophy of religion.
She has published two monographs of Christian Theology: Lord, Giver of Life (Wilfrid Laurier University Press, 2006) and Thinking Christ: Christology and Contemporary Critics (Fortress Press, 2011). Barter has also edited two scholarly volumes: The Future of Theological Education in Canada (Toronto Journal of Theology, 2008) and Kenneth Hamilton's The Doctrine of Humanity in the Theology of Reinhold Niebuhr (Wilfrid Laurier University Press, 2013). She has published several book chapters and scholarly articles in feminist theory and/or religion. Barter is also the founding editor of Crossings, a student journal for University of Winnipeg students in the Humanities and Social Sciences. 
Teaching Areas:

Christianity, Modern Jewish and Christian Thought, (Western) Religion and Feminism.
Courses:

Atheism, Skepticism and Religion (REL-2304)
Early and Medieval Christianity (REL-2305)
Modern Christianity (REL-2306)
Religion and Moral Issues (REL-2425)
Research Interests:

Political Theology, Continental Philosophy, Christian Thought. 
Publications: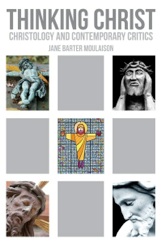 Barter, Jane. "Sex and Gender." The Edinburgh Encyclopedia of Twentieth-Century Theology. Edited by Philip Ziegler. Edinburgh: University of Edinburgh Press, forthcoming.
Barter, Jane. "'Speaking About Her Just Might Heal': Witnessing to Canada's Missing and Murdered Indigenous Women." In Terrors of Injustice: Gender Violence and the Ethics of Shame. Edited by Shé Hawke and Lenart Škof. Lanham: Lexington Books, forthcoming. 
Barter, Jane. "Beyond Bare Life: Narrations of Singularity of Manitoba's Missing and Murdered Aboriginal Women." In Bios: Feminist Philosophies of Life. Ed. Chloë Taylor and Hasana Sharp, Montreal: McGill-Queen's University Press, 2016.
________. "On Not Escaping Yourself: Jewish Conceptions of Memory, Time, and Redemption in Mad Men" In Jornal of Religion and Popular Culture. Spring 2017. 
________. Thinking Christ: Christology and Contemporary Critics. Minneapolis: Fortress Press, 2012.