MDP Students at Rising Up 2019
Thu. Mar. 28, 2019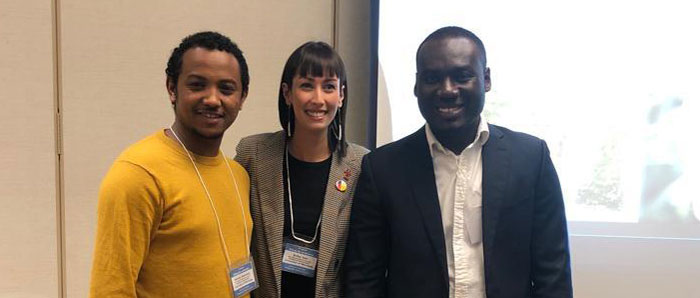 (L-R) MDP students Henok Alemneh, Erika Vas and Elijah Osei-Yeboah
On March 15th and 16th, four MDP students presented at the Rising Up: A Graduate Students Conference  at the University of Manitoba. This year's theme was Indigenous knowledge and research.
Henok Alemneh presented on "Resilient Indigenous Tourism as a Conduit for Reconciliation: A case study of the Pimachiowin Aki World Heritage site." He said, "Rising Up gave me a great opportunity to share what I am learning about Indigenous-driven tourism development and a chance to connect and learn from fellow graduate researchers!"
Erika Vas's presentation was titled "Community-Driven Tiny Houses: Reframing On-Reserve Housing in Canada." This was the second time she presented at Rising Up. She stated, "This conference is a personal highlight for me and I'm thankful to be included among a lineup of fellow students who are completing studies in the Indigenous studies field. My presentation was related to my SSHRC-funded Major Research Project looking at the on-reserve housing and communities who are taking a community-led approach to providing their members with housing solutions that are meeting their health and wellness needs. I would also like to extend a special thank-you to Laura Forsythe and Jennifer Markides for their outstanding commitment and dedication to offering this conference."
Elijah Osei-Yeboah's title of his presentation was "Development and freedom: Does self-determination or self-government translate directly into development?" Elijah expressed, "I'm happy I got this opportunity to share my research findings with a bigger audience. I met graduate students from different universities in Canada.  What I like the most is the opportunity to write a book chapter for publication."
Kara Passey presented her research: "Inuit Art as Mobilization and Knowledge Transfer."
MDP Alumna, Stephen Penner, also participated and presented: "Exploring Food Mino-Pimatisiwin (good life) Through the Lens of Indigenous Agriculture and Law: Respecting How Indigenous Control of Food Production is Building Food Sovereignty Models Across Turtle Island."
Congratulations for your work!