MDP Student at Indigenous Health Symposium
Mon. Dec. 4, 2017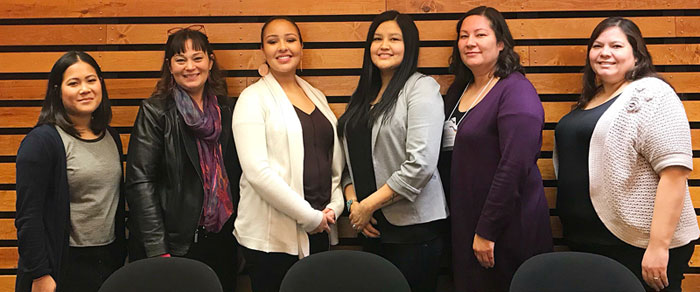 (L-R) Ari Phanlouvong, Jaime Cidro (Acting MDP Director), Ali Fontaine (MA student in Indigenous Governance at UVic), Melissa Brown (Doula Coordinator, FNHSSM), Stephanie Sinclair (Doula Research Manager, FNHSSM), Jolene Mercer (Manitoba Indigenous Doulas Initiative). Photo courtesy of Melissa Brown.
On November 22-23, the Indigenous Institute of Health & Healing - Ongomiizwin: Research hosted the 5th Annual Indigenous Health Symposium at the University of Manitoba. This year's theme was "Looking Forward, Pushing Back: Research, Resistance, Resurgence." It was an opportunity for researchers, students, and community members to come together to share ideas and learn about Indigenous health research.
MDP student, Ari Phanlouvong, co-presented with Ali Fontaine on "Indigenous Doulas Summer Project 2017" as part of the panel "Indigenous Doulas for First Nations Women in the City who Travel for Birth."
 "It was an honor and privilege to have met and interviewed such influential women who have empowered Indigenous women and their families through culturally based support -- a crucial step towards bringing birth closer to home." Ari
Well done, Ari!