MDP receives Cando Accreditation
Wed. Nov. 22, 2017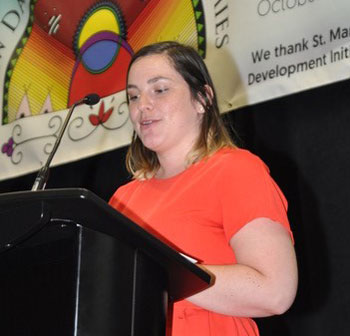 Sarah Wood photo courtesy of Cando
In October, Sarah Wood, a 2016 Cando National Youth Panelist, had the opportunity to go to Wolastoqiyik (Maliseet) territory (Fredericton) for Cando's 24th Annual National Conference, "A New Dawn in Indigenous Economies."
Cando (Council for the Advancement of Native Development Officers) is a federally registered, non-profit society that is Aboriginal controlled, community based, and membership driven.  Cando is directed by a national regionally represented volunteer board of elected Economic Development Officers representing every region of Canada.
As a recent graduate of the MDP, Sarah spoke on the behalf of the program to express gratitude for the official designation of the MDP as a Cando Certified Aboriginal Economic Developer Accredited Institution.
The conference hosted a variety of workshops, speakers and panels on interesting topics related to Indigenous Development, including Co-Operative Business Development in Indigenous Communities, Accelerating Youth Leaders through Mentorship and Collaboration, a Women in Business panel, amongst others.
Dr. Jaime Cidro, Acting Director, MDP stated that "the Master's in Development Practice – Indigenous Development Program (MDP) at the University of Winnipeg is honoured to be recognized as an Accredited Institution with CANDO and we look forward to our students becoming TAED (Technical Aboriginal Economic Development) certified, which will enhance their professional opportunities."
For further information, see here.