MDP Students travel to Northern Co-ops
Tue. Jul. 11, 2017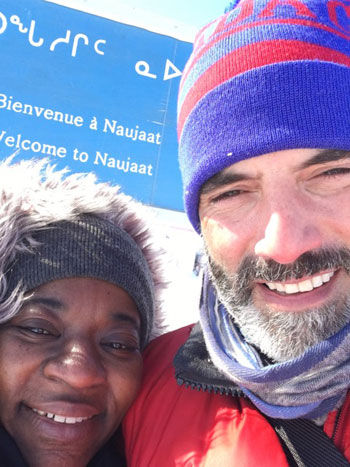 Esther Awotwe and Stephen Penner
Esther Awotwe and Stephen Penner, both second year MDP students, were senior research assistants on a Social Sciences and Humanities Research Council (SSHRC), MITACS and Indigenous and Northern Affairs Canada (INAC) funded project entitled "Co-operatives in Rrural and Remote Communities in Canada's North."
For this knowledge synthesis project, conducted under the guidance of Dr. Simon Berge, Assistant Professor and Business Chair of Co-op Enterprises at UWinnipeg, Esther and Stephen traveled to three Arctic communities in the spring to gather stories around the importance of Co-operatives in the life in of each community.
While in Naujaat, Nunavut; Ulukhaktok, NWT; and Old Crow, Yukon, the team gained greater awareness of the remoteness and the lived reality of Arctic life. Esther and Stephen both got to walk briefly within the lives of each community - experiencing the food, the culture, and the life while gaining an nascent understanding of what Quajimajatuqangit (Inuit Knowledge) and Northern Indigenous Knowledge means.
The project will take several more months of editing and assembly, but the short time Esther and Stephen spent in the Arctic Circle, participating in community celebrations, witnessing the never-dying light of the North, meeting and honouring Elders, being gifted with stories and offered a glimpse of that which so many Canadians never experience will forever be embossed in their minds and hearts.
" To gather and share stories around a powerful community resource like the Co-op was an honor and privilege.  And to experience a bit of the Arctic from the perspective of those Indigenous to the land was a transformative experience."  Stephen Penner

Naujaat, Kivalliq Region of Nunavut