MDP's Outstanding International Student
Tue. Nov. 29, 2016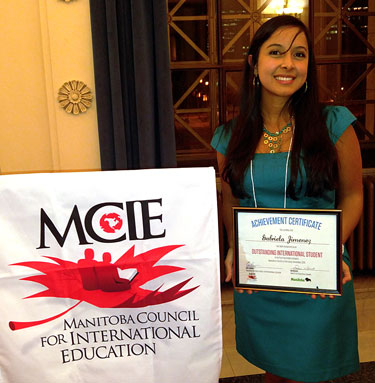 On November 17th at the Ninth Annual International Education Reception, Gabriela Jimenez, a 2nd year MDP student from Venezuela, was awarded first place in Manitoba Council for International Education (MCIE)'s post-secondary school category.
"I think the best place I could have chosen for the MDP program is Manitoba because the cultural diversity of Winnipeg and the Indigenous heritage of this province has exposed me to the reality of communities' development complexities, giving me also the opportunity to strengthen my skills and apply the knowledge we acquire in the classroom. I am honoured to receive this recognition from the Province of Manitoba, especially from the Minister of Education and Training, for doing something that I am more than happy to do.
Thank you MDP for the nomination and MCIE for selecting me as Outstanding International Student in the Post-secondary category." Gabriela
Congratulations, Gabriela, on your well-deserved recognition!