MDP Students at ICSD 2016
Thu. Sep. 29, 2016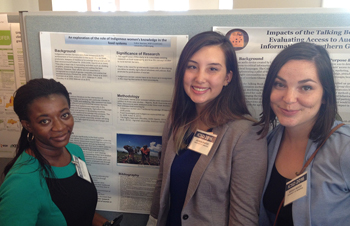 Esther Awotwe (L), Jasmin Winter (C) and Sarah Wood (R)
The International Conference on Sustainable Development (ICSD) was held at Columbia University, New York City on September 21-22th, 2016, co-hosted by the Master's in Development Practice Global Association (MDP) and the Sustainable Development Solutions Network (SDSN).
The conference theme was Moving Forward: The SDGs in Practice. Presentations aimed at identifying and sharing practical, evidence-based solutions that can support the Sustainable Development Goals (SDGs).
Three UWinnipeg MDP students, Sarah Wood, Jasmin Winter and Esther Awotwe, attended the ICSD to highlight their research.
Sarah's presentation was entitled "SDG 3: Revitalization of Indigenous Midwifery in Canada," Jasmin presented on "The Virtual Balancing Act: Digital Tools for Decolonization," and Esther's poster was entitled "An Exploration of the Role of Indigenous Women's Knowledge in the Food Systems." Notably, Jasmin's paper was selected as one of the top student papers at the conference, please see here.
"It was an honour to represent the University of Winnipeg at the International Conference on Sustainable Development, especially as the conference made space this year to open up discussions about Indigenous innovations and perspectives." Jasmin Winter
 "It was a great and informative experience listening to all the seasoned key note speakers. The panel discussions and presentations created that new zeal and confidence in me knowing that the SDGs were not a side track but the main path for future development. It was an awesome conference!" Esther Awotwe
Congratulations to the UWinnipeg MDP students for their well-received presentations!