MDP students at Rising Up Conference
Fri. Mar. 18, 2016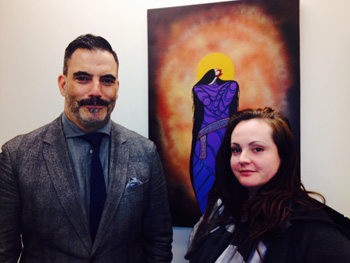 Photo © UWinnipeg, painting by Marcus Houston
Two MDP students, Leah McDonnell and Stephen Penner, had their papers accepted at Rising Up: A Graduate Student Conference on International Compact, Knowledge, and Research in Indigenous Graduate Studies. It was held at the University of Manitoba, March 4-5, 2016.
Leah's presentation was entitled "Secrets We Sell: The Vulnerability of Inuit Women in Canada to Human Trafficking."
She said, "The conference was an excellent chance to be able to speak with other graduate students about contemporary issues being faced by Indigenous communities in Canada, while simultaneously being able to practice our presentation skills and style."
Stephen presented on "Gathering Circles: A Feasibility Study of an Indigenous Co-operative Food Distributor."
It was Stephen's first time presenting in an academic forum. He noted that "It was incredible to do so in an environment that one could feel the positive movement on incredibly important issues around Indigenous culture, rights and socioeconomic conditions."
Congratulations Leah and Stephen!