MDP student earns CN Scholarship
Fri. Mar. 13, 2015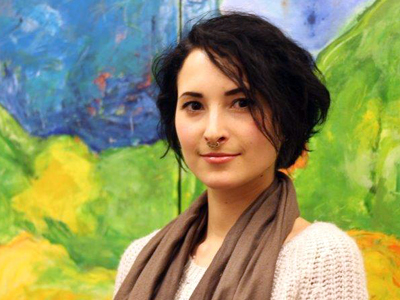 Anna Huard is from Couchiching First Nation and is in her first year of UWinnipeg's Master's in Development Practice Program. Huard has earned the prestigious CN scholarship valued at $17,500. She is grateful for the scholarship because it has allowed her to focus on her studies by removing part of the financial burden of graduate school.
"I was born and raised in Winnipeg," said Huard. "As a First Nations woman growing up on the prairies, I saw firsthand the struggles and issues surrounding our culture. However, beneath the poverty and crime, there is such beauty."
Huard notes that acquiring the MDP is an intense process that is also rewarding. "The MDP program has really bridged the gap between my passion in Indigenous development and my community. Prior to the program, I would march at Idle No More protests and follow online blogs but was never really connected with local movements."
This summer Huard will be doing her practicum with the Assembly of Manitoba Chiefs. "I hope to spend most of my summer contributing to projects in Winnipeg's inner-city. I really feel my (MDP) training has prepared me to create a positive shift towards improving our Indigenous population in Winnipeg (and hopefully Canada). And this is just the beginning!"
Huard completed a Bachelor of Arts in Development Studies and Psychology at The University of Winnipeg in 2009.
The CN Scholarship was established by the Canadian National Railway Company to recognize outstanding full-time students enrolled in the Master's in Development Practice Program who are interested in furthering their academic and practical knowledge in Indigenous Development.
The Master's in Development Practice program (MDP) is an innovative professional degree offered by a network of over twenty-five leading universities on six continents. At the University of Winnipeg, the MDP uniquely focuses on Indigenous development – the only program in the world to focus on how Indigenous knowledge and experience can help shape a sustainable path for development, rooted in culture and identity.