MDP student wins Global Development Challenge
Mon. Feb. 23, 2015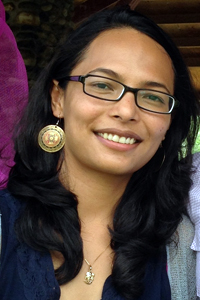 MDP is pleased to announce that the inaugural winner of the Global Development Challenge: Ideas that Change the World hosted by WUSC and CECI through the UNITERRA program is Manna Sainju, a second year MDP student at the University of Winnipeg. Through a competitive process, Manna was chosen from among 24 applicants to present her project, together with 3 other finalists, at the 2015 International Forum in Montreal on January 24th. Her project, "Enhancing Economic Security of Tharus in Nepal," was selected as the winner, awarding Manna the opportunity to access funding and resources to turn her project idea into a reality.
Building on her earlier work in Nepal and her studies in the MDP, in particular the course Managing for Environmental Sustainability, Manna's project proposes the idea of facilitating pathways to self-determination for marginalized Tharu communities in Nepal, in particular through the promotion of economic independence, and the preservation and celebration of Tharu culture. The Tharu are an Indigenous people who live along the Southern border of Nepal.
Manna proposes to initiate community-led bio-briquette and handicraft making enterprises with the aim of doubling household income. The primary participants in the project will be Tharu women and youth.  In collaboration with UNITERRA, Manna will plan for the project to begin in winter of 2016.  
Congratulations Manna!