MDP at the 1st International Conference on Women's Education
Thu. Nov. 13, 2014
UWinnipeg's Master's in Development Practice program was well represented at the first International Conference on Women's Education for Sustainable Human Development on October 16 and 17 in Winnipeg.
Three MDP students: Badriyya Yusuf, Douglas Baba and Margaret Lewis-John and one MDP alumni: Janna Barkman presented their research.
The title of Badriyya's presentation was "The Child-Bride and Education in Nigeria;" Douglas's was "Moving Towards Sustainable Human Development: Education, an Essential Tool for Poverty Eradication in Sub-Saharan Africa;" and Margaret's was entitled "Progressing Towards Sustainable Development: Education for the Empowerment of Women."
Janna co-presented on "Women, Peace and Activism: A Toolkit for Young Feminists."
Congratulations to all of them for sharing their knowledge and experience.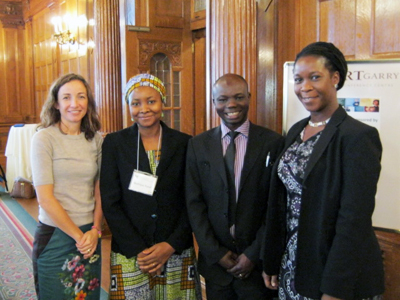 Left to Right: Claire Reid, Badriyya Yusuf, Douglas Baba, and Margaret Lewis-John