MDP student a 2014 Cando Youth Role Model
Tue. Oct. 28, 2014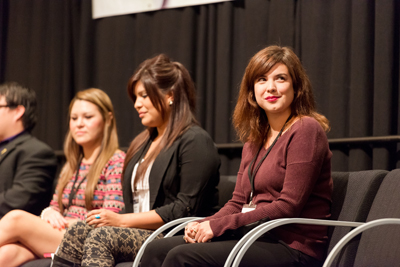 Rachel Bach (far right). Photo Credit: Sean Fenzl Photography
Rachel Bach from Akisq'nuk First Nation in the Ktunaxa Territory in British Columbia and a new Master's in Development Practice (MDP) graduate was one of six other Indigenous youth panelists showcased at the Cando Annual National Conference & AGM in Nanaimo, British Columbia on September 22-25, 2014.
During 10th Annual Cando National Youth Panel, Rachel highlighted her experience as a Master's student in the MDP program and her field placements. The first one was with the Norway House Cree Nation Health department and the second placement was with the Population Council in Nairobi, Kenya where she researched barriers to accessing obstetric fistula care. She also spoke on her next chapter as a Policy Analyst for the newly established First Nations Health Authority in Vancouver, British Columbia.
We congratulate Rachel for having been selected to participate in this important panel.
Learn more about the 10th Annual National Youth Panel here: http://www.edo.ca/conference/2014/national-youth-panel