Marty Morantz + family gives generously to MDP Program
Thu. Aug. 14, 2014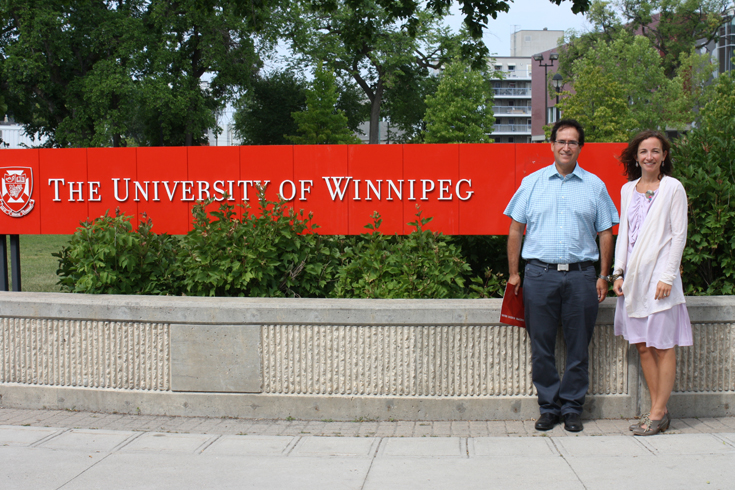 On Thursday August 14, 2014, The University of Winnipeg had the pleasure of hosting Marty Morantz on campus to meet with Claire Reid, Director of the Master's in Development Practice Program (MDP). In 2010, Morantz and his wife Lisa generously donated $25,000.00 in support of the MDP program.
Earlier in 2010,  Morantz had  a mutual acquaintance connected with former President and Vice-Chancellor, Dr. Lloyd Axworthy who suggested they discuss the possibility of his family supporting the program. At the time, the MDP program was still in the idea phase but Morantz believed in Axworthy's track record and was excited by the program's potential. This led to him making the first and one of the largest personal gifts the MDP program has received to date.
"The MDP program appealed to my family because we were excited at the prospect of supporting a program producing effective and focused individuals with the skills and knowledge to make changes within our province and the wider community. I truly believe the right combination of education, training and community engagement is the optimal approach to solving poverty and related issues which affect Manitoba."
The MDP program is an innovative professional degree offered by a network of 26 leading universities in six different continents. UWinnipeg's MDP uniquely combines academic and practical aspects of development with a focus on Indigenous development.
"I was pleased to meet Marty and update him on how the MDP program has flourished since he first agreed to support the program back in its initial stages. We are very proud of the program, our students and their commitment to the practice of sustainable indigenous development.  The Morantz's generosity provides students with increased educational opportunities to hone those skills that are critical to successful sustainable development practice," said Claire Reid, Director of the MDP Program. "We are grateful for the family's generous support."
A lawyer, business-man, politician and philanthropist, Morantz met with MDP Staff for a tour of their space on UWinnipeg's campus and heard first-hand the impact this program is having on the future of Indigenous communities in Canada and abroad.
The Morantz's gift goes entirely towards student scholarships, and recognizes outstanding full-time students enrolled in the MDP program. Through his generous donation, Morantz and his family have contributed significantly towards ensuring the program is accessible.