UWinnipeg gets $50,000 for MDP program from Foyston, Gordon & Payne Inc.
Wed. Nov. 20, 2013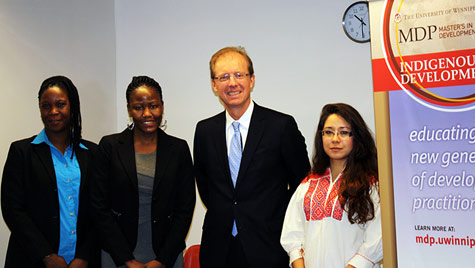 President of FGP James Houston with MDP students Margaret Lewis-John, Tatenda Bwawa and Dulce Maria Gonzalez
Investment management firm and UWinnipeg Supplier Foyston, Gordon & Payne Inc. (FGP) will give $50,000 to significantly strengthen student awards within the University's Master's in Development Practice (MDP) program.
This gift represents one of the largest donations since the launch of the MDP program in 2011.
The MDP is an innovative professional degree offered by a network of 24 leading universities around the world. At The University of Winnipeg, the MDP uniquely combines academic and practical aspects of development with a focus on Indigenous Peoples.
"Foyston, Gordon & Payne Inc. understands the power of education and the importance of enhancing accessibility through student support, their generosity will benefit generations of UWinnipeg students," said Dr. Lloyd Axworthy, President and Vice-Chancellor. "This historic gift is an investment in both The University of Winnipeg and in the many local and international communities which our students will enrich as they become future development practitioners. Foyston, Gordon & Payne Inc. believes deeply in our collective future as national and global leaders."
This gift recognizes outstanding full-time students enrolled in the MDP program interested in furthering their academic and practical knowledge in Indigenous Development. These awards will enable students to attend the program covering tuition and field placement costs.
"FGP shares our vision for bringing a strong commitment to the personal and professional growth of students interested in the field of sustainable indigenous development.  FGP's generosity guarantees students are provided increased educational opportunities to hone those skills that are critical to successful sustainable development practice," said Claire Reid, Director of the MDP Program. "We are excited and grateful for FGP's generous support."
President of FGP James Houston met with MDP Faculty, Staff and Students this morning for a tour of the space and to hear first hand accounts from graduate students of the impact the program will have on the future of Indigenous communities in Canada and abroad.
"At FGP we believe in education. Our goal is to help build on the success of the MDP program and empower talented young students, like those I was fortunate to meet today, who share our mission to develop leaders who make a positive difference in the world, " said James Houston, President of FGP.  "We are thrilled to be able to make such an impactful contribution and to offer much-needed student support to ensure UWinnipeg continues to attract the best and the brightest students and provide them with the financial resources they need."
FGP was founded in 1980 to provide value-style portfolio management to pension plans, foundations, endowments and high net worth individuals.
Learn more about UWinnipeg's unique Masters in Development Program.
MEDIA CONTACT
Kevin Rosen, Director of Marketing and Communications, The University of Winnipeg
P: 204.786.9381, E: k.rosen@uwinnipeg.ca